South Coast Divers, your source for scuba diving in Laguna Beach
Latest S CA swell model

San Pedro Channel model

San Diego model

Current Laguna Beach Date & Time: Thursday 08-13-2020


Weekly scuba diving in Laguna Beach:
Here at South Coast Divers, we believe that the best way for NEW scuba divers (Newbies) to gain experience in scuba diving is for newbies to dive with experienced divers. We have done this since 1998 and we encourage all new scuba divers to dive with us. To join the email list, click on SCD FB Group and this way you can have the latest information and dive schedules, join today!! The diver list is currently over 1,300 divers. If you still have questions, see the SCD About page, click on the link above.
Join us, no membership fees here, it's free!
Click here for...

This is an excellent opportunity for you to gain scuba diving experience by diving with those who have many, many dives, because we share our vast scuba diving experience with those who want or need it. Meet at the Laguna Hills mall at 7:30 AM for morning dives and 6:30 PM for night dives, leave for Laguna at 7:45 AM & 6:45 PM SHARP, don't be late. But remember, that this is just, 'A bunch of scuba divers who love to dive, getting together to dive'.
You must know your own limitations and you ONLY YOU can make your own decisions about scuba diving, WE are not responsible for you. Please make the RIGHT decisions about YOUR scuba diving based on your own training and skill set. There is never an 'Official' dive master or instructor 'On Duty', you dive at YOUR OWN RISK.

---
Here is the latest group email, in case you did not get it.



Good morning Divers!!! 08/12/2020, Wednesday
Current diving conditions in Laguna Beach. We still have a S swell but it is a bit lower than yesterday, running 1-3 feet around most of Laguna. Viz should be in the 8-15 feet range this morning. If you go out today, post your dive report on the SCD FB Group page.

Our plans are still on hold due to covid.

Stay safe everyone.

Diving!! DO IT!! Safely...

Rich Parker & Louis Umphenour
https://facebook.com/groups/SouthCoastDivers/
http://southcoastdivers.com





---
Lobster diving in Laguna Beach:
Since January 1 2012, it has been illegal to take ANYTHING within the city limits of Laguna Beach. The distance out from shore is the better part of 3 miles. If you want to read part of what is posted from the DFG/DFW (Dept of Fish & Wildlife), go to

Open the link about Laguna Beach and then see the map in JPG or PDF form. So READ IT, there aren't any excuses for not knowing the laws. Just remember you cannot take ANYTHING in Laguna Beach, period. So you need to lobster dive outside of Laguna Beach. Thanks.

---
Diver Etiquette & Night Diving in Laguna Beach:
First, general Diver Etiquette. I can't count how many times I have to tell divers to be quiet and respect those who live around where we park in Laguna. Back in the 1960's the residents of Laguna got together and were nearly successful in banning scuba diving in Laguna. An agreement was reached where we see the regulations that are on the books with the City about having proper gear, including a snorkel (Which has been relaxed in the last few years). Part of this etiquette is wearing a proper swim suit. Nothing bugs residents more than divers standing around in their wet underwear (Or less) and changing into their street clothes. It would be my guess, you could also get cited by the local Police too. "Come on people" show some respect for the home owners!! If you have issues with that swim suit "bind" then wear a long speedo type of suit (Also know as a Jammer). Then use a towel "Poncho" and change into your clothes. I am always surprised how many times I have to tell divers this. Night Diving. We are very fortunate we can dive Laguna year around, 24 hours a day (Conditions permitting). But at night don't "Blow air" after a dive. Simply take your gear elsewhere to break your gear down. If you don't think the residents can end diving in Laguna, "Think again". To read more about Skin & Scuba Diving in Laguna Beach, see Chapter 18.21 SKIN AND SCUBA DIVING in the Laguna Beach Municipal Codes (Click on Search).



---
Chamber Day
Each year the diving community gets together to raise money for the chamber at Catalina, the only chamber that is only for diver use in S CA. It is a non profit run chamber and they need divers to help support it.

Thanks for your support.
---
SCD Hat? How do I get one?
The only way to get an official SCD hat with your name on the back is to show up for one of our dives, then you too can order an SCD hat., to get one, show up on a Saturday and place an order with me.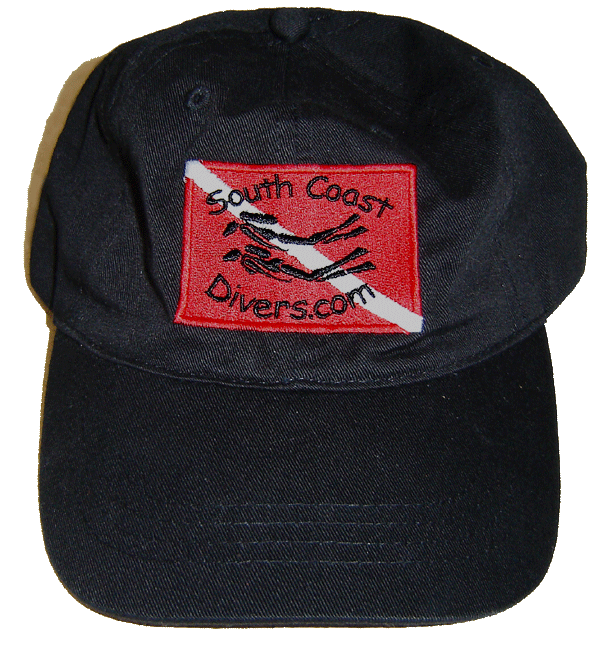 ---
This page
has been Viewed

since 11-09-1999

Everything and every part of this
site is Copyrighted by
Richard Parker Consulting
1997 - 2020

All links to this site must be
accessible & not password protected.